A backyard gazebo can be a stunning addition to any outdoor space, offering a perfect blend of beauty, functionality, and relaxation. Whether you're looking for a cozy spot to unwind, an outdoor dining area for entertaining guests, or a tranquil space to enjoy nature, a gazebo can fulfill all these desires and more. In this comprehensive guide, we will explore the various types of backyard gazebos, their benefits, installation considerations, and design ideas. By the end, you'll have all the information you need to transform your outdoor space into a captivating haven with a backyard gazebo.
Types of Backyard Gazebos
When considering a backyard gazebo, it's important to understand the different types available. Here are three popular options:
1.  Traditional Gazebos: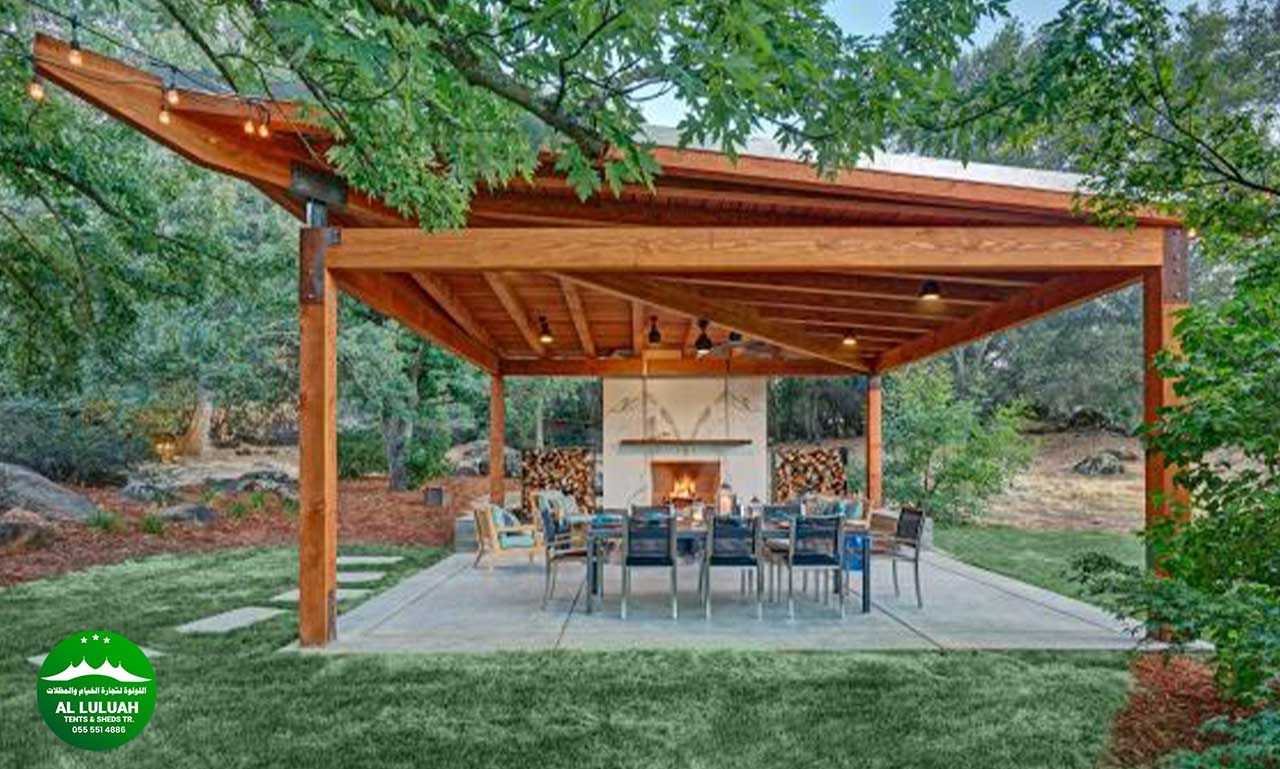 These classic structures feature a circular or octagonal shape with a solid roof, providing excellent protection from the elements. They often have ornate designs, making them visually appealing additions to any backyard.
2. Pergolas:
Pergolas are open-air structures with a framework of vertical posts and crossbeams. They offer partial shade and can be adorned with climbing plants to create a natural, picturesque setting.
3. Canopy Gazebos:
Canopy gazebos have a fabric or metal roof supported by a sturdy frame. They are versatile and easy to set up, providing a temporary shelter that can be easily moved or adjusted as needed.
Benefits of Backyard Gazebos
Backyard gazebos offer numerous benefits that make them worth considering for your outdoor space. Let's explore some of these advantages:
1. Shelter and Protection:
A gazebo provides a sheltered space that allows you to enjoy your outdoor area regardless of the weather conditions. It offers protection from the sun, rain, and even bugs, allowing you to make the most of your backyard throughout the year.
2. Enhanced Aesthetics:
Gazebos add a touch of elegance and sophistication to any outdoor setting. They serve as focal points, elevating the overall appeal and visual impact of your backyard.
3. Versatility:
Whether you envision it as a peaceful reading nook, an outdoor dining area, a yoga retreat, or a place to gather with friends and family, a backyard gazebo can adapt to various purposes, accommodating your needs and desires.
4. Increased Property Value:
Installing a well-designed and functional gazebo can increase the value of your property. Potential buyers are often attracted to homes with outdoor spaces that offer additional features and opportunities for relaxation and entertainment.
Installation process
Before diving into the installation process, it's important to consider a few key factors:
1. Size and Placement:
Determine the appropriate size and placement of the gazebo in your backyard. Consider the available space, the intended purpose, and how it will fit within the existing landscape.
2. Material Selection:
Choose a material that aligns with your preferences, budget, and climate. Common materials for gazebos include wood, vinyl, and metal. Each has its own advantages and considerations in terms of maintenance, durability, and aesthetic appeal.
3. Foundation and Support:
A sturdy foundation is crucial for the stability and longevity of your gazebo. Depending on the type and size of the structure, you may need to consider options such as concrete footings, patio stones, or ground screws. Consult with a professional if needed.
4. Building Codes and Permits:
Research local building codes and regulations to ensure compliance before installing a backyard gazebo. Some areas may require permits or have specific guidelines regarding setbacks, height restrictions, and structural requirements.
Design Ideas for Backyard Gazebos
To create a gazebo that suits your style and complements your outdoor space, consider the following design ideas:
1. Lighting:
Install ambient lighting to create a cozy and inviting atmosphere in the evenings. Options such as string lights, lanterns, or even chandeliers can add a touch of magic to your gazebo.
2. Furniture and Accessories:
Choose comfortable and weather-resistant furniture to furnish your gazebo. Cushioned seating, outdoor rugs, and decorative accents like pillows and curtains can enhance both the comfort and aesthetics.
3. Landscaping and Greenery:
Surround your gazebo with lush greenery, flowers, or climbing vines to blend it seamlessly with nature. This will create a serene and visually pleasing environment.
4. Privacy and Screening:
If privacy is a concern, consider incorporating curtains, screens, or lattice panels around your gazebo. These additions can offer a sense of seclusion and protection from prying eyes.
Conclusion
A backyard gazebo is an excellent investment that can transform your outdoor space into a picturesque retreat. By understanding the different types of gazebos available, their benefits, installation considerations, and design ideas, you can make an informed decision and create a captivating haven in your backyard. Whether you seek a cozy hideaway, an entertainment area, or a serene spot to enjoy the outdoors, a gazebo provides the perfect blend of style and functionality. Start planning and bring your dream gazebo to life, adding value and endless enjoyment to your outdoor living space.