A Aluminium pergolas is an outdoor feature forming a shaded walkway, passageway, or sitting area of vertical posts or pillars that's usually support cross-beams and a sturdy open lattices often upon which Aluminium slats vines are trained.
At Alluluah tents and sheds tr. we are an experienced group of experts with a diverse range of skill. We special in custom aluminium pergola and patio enclosure for elegant shade. .
Enhance Your Outdoor Living Space with Aluminium Pergolas
These versatile structures offer a perfect blend of style, durability, and functionality. In this article, we will explore the numerous benefits of aluminium pergolas, from their elegant designs to their low-maintenance properties, and how they can transform your outdoor area into a beautiful and functional oasis.
Stylish and Versatile Designs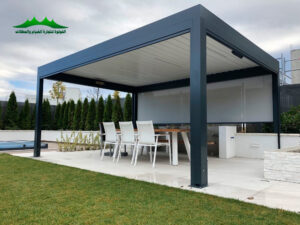 Whether you prefer a modern, sleek look or a more traditional and ornate design, there is an aluminium pergola to complement your outdoor space. With customizable options for roof styles, support beams, and decorative elements, you can create a unique and visually stunning pergola that adds a touch of elegance to your backyard, patio, or garden.
Durability and Weather Resistance
One of the key advantages of these pergolas is their exceptional durability and ability to withstand various weather conditions. Aluminium is a lightweight yet robust material that is resistant to corrosion, rust, and UV damage. This makes aluminium pergolas highly suitable for outdoor environments, as they can withstand the elements without warping, cracking, or fading. Whether you live in an area with intense sunlight, heavy rain, or strong winds, an aluminium pergola will continue to look great and provide reliable shelter for years to come.
Low Maintenance and Longevity
Unlike other materials, aluminium requires minimal maintenance to keep it looking its best. It does not need regular staining, sealing, or repainting. Aluminium pergolas are easy to clean with just soap and water, saving you time and effort in upkeep. Moreover, aluminium is a long-lasting material that does not deteriorate over time, ensuring that your pergola will maintain its structural integrity and aesthetic appeal for many years, making it a worthwhile investment for your outdoor living space.
Enhanced Outdoor Living Experience
By providing shade and protection from the sun's rays, they create a comfortable and inviting space for outdoor activities, such as dining, entertaining, or relaxation. The option to incorporate adjustable louvers or retractable canopies allows you to control the amount of sunlight and ventilation, providing flexibility to adapt to changing weather conditions. Whether it's a hot summer day or a light drizzle, your aluminium pergola swill offer a sheltered retreat, allowing you to enjoy the outdoors in comfort.
Conclusion
These pergolas offer a stylish and durable solution for transforming your outdoor living space. With their versatile designs, weather resistance, low maintenance requirements, and functional benefits, they provide a perfect blend of style and functionality. Invest in an aluminium pergolas to create a beautiful and inviting outdoor area that you can enjoy for years to come.