Umbrella Beach shades are primarily used for shelter, providing greater protection from the sun's hot UV rays and enhancing the attractiveness of Dubai's beach zones. We offer the most recent, cutting-edgely designed, and structural beach umbrella shades. In any weather, it keeps you cooler and more relaxed while relaxing on the beach. offering an extensive range of beach sun shades in appealing designs and a variety of colors. Our beach umbrellas are made with high-end fabrics from around the world, including PTFE, PVC, mesh, and HDPE. This framework holds the shades safely in place, extending the life and stability of the shade's construction. It consists of an aluminum pole with a steel bottom frame that has been powder-coated.
Our beach umbrella shades can be erected on beaches, boardwalks, beach eateries, cafeterias, hotels near the beach, anywhere in the United Arab Emirates.
Our Best Beach Umbrella Shade Designs
Umbrella beach shades
Sail Shades for the Beach
Beach Wave Design Shades
Pinnacle Beach Tent
#1. Beach Umbrella Shades: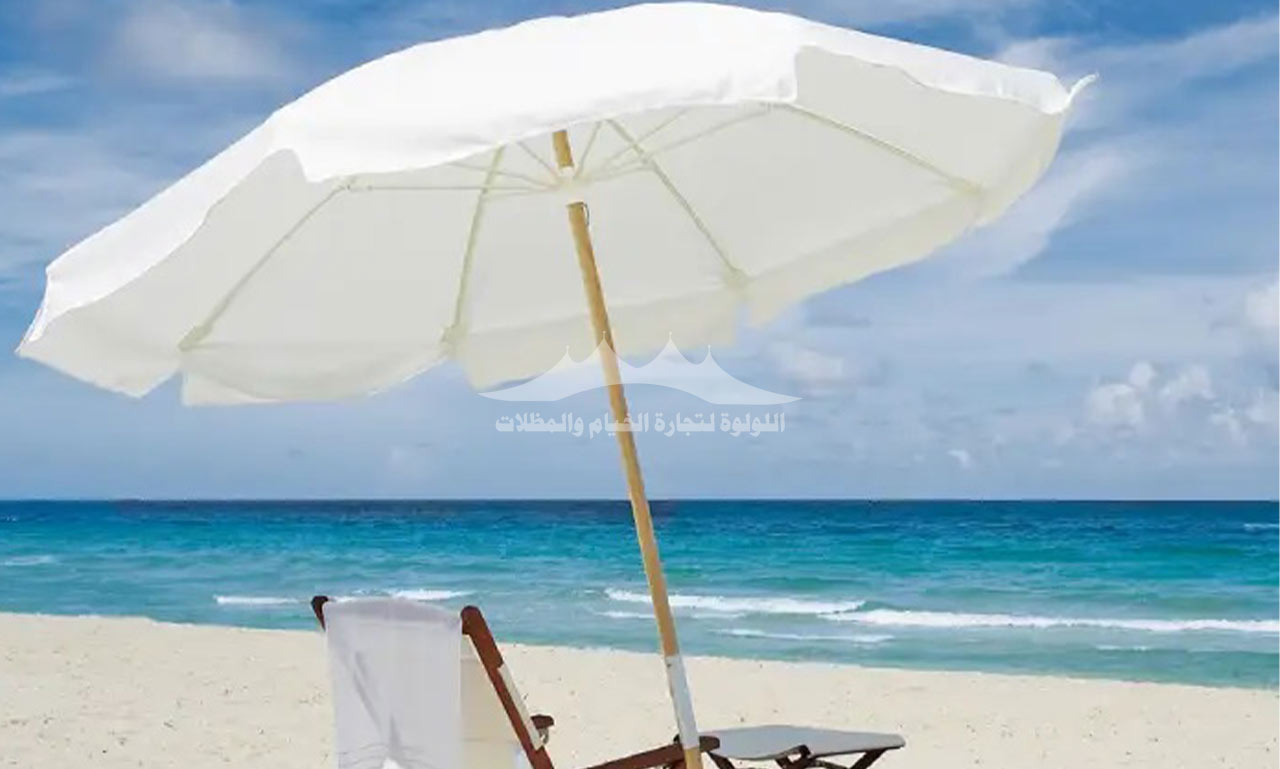 Umbrella Beach shades can create a scenic view in seaside areas and these are the most popular and widely used beach sun shades. These are the best beach sun shades for any type of weather because they are so practical and strong. Strong winds that blow along the seashore are no match for the umbrella shade's sturdy construction. These blinds are built to block UV sun rays and are intended for tough, hot weather. The beach umbrella shade is flexible, and you may close or open it whenever you need to, increasing its safety. It operated with crank.
#2. Beach Sail Shades:
The most elegant, distinctive, and appealing beach shade designs are sail shades. Beach sail shades come in a variety of hues and exquisite patterns. These shades are made from premium materials including HDPE and mesh, making them more long-lasting and sturdy. Sail Beach sunglasses offer greater protection and comfort by blocking 90%–95% of UV sun rays and withstanding the severe weather of the United Arab Emirates.
#3. Wave Design Beach Shades:
Wave design beach shades are made from both fabric and fiberglass sheets, and they are durable and specifically designed for a beach. These shades can be set up in accordance with the needs. We can protect ourselves from the sun's heat and extra-harsh UV rays by using beach umbrellas with wave designs. We provide permanent installation services for massive structural wave beach shades in the UAE. In addition, we offer the most cutting-edge and recently created structured wave beach shades in Dubai, Sharjah, Abu Dhabi, Ajman, and Fujairah, among other locations in the United Arab Emirates. We also offer our services worldwide.
#4. Pinnacle Beach Tent:
An vintage, the Pinnacle beach Tent canopy is the simplest, cheapest permanent tent option for picnic areas. The Pinnacle tent is simpler to put together, take apart, and store. Our beach tent canopies provide the greatest protection from additional UV radiation, and in the event of rain, water will not enter the inner tent.
It is strong and long-lasting. The maximum wind load speed is 80 km/h (0.3 kn/m2).
Some of Best Beach Umbrellas in UAE
If you require a beach umbrella for your upcoming visit to the beach in Dubai? We also did!
Finding the "right" sun protection that will endure strong winds, soft sand, and the test of time may seem simple, but it is a difficult effort. In addition to your budget, you must ensure that your beach umbrella provides correct sun protection, is big enough to shade you and your family, and is sturdy.
We've put together a comprehensive guide with in-depth analyses of each deserving beach umbrella to make your job easier.
BEACHBUB ALL IN ONE
The American Lifeguard Association has given its endorsement to the BeachBUB All-in-One beach umbrella. It has one of the greatest anchorage systems on the market and a devoted following, making it even more alluring for us to examine.
SPECS & FEATURES
Material: 1.5mm Industrial Grade Aluminum 12″ Fiberglass Ribs, 220G Woven MAX UPF Polyester, Stainless Steel Hardware
UPF: 50+
35 mph wind resistance
Height: 7 1/2 feet
Weight: 9 pounds. (4 kg approx.)
AMMSUN 7′ HEAVY DUTY BEACH UMBRELLA
You may have heard of the AMMSUN 6.5′ Beach Umbrella if you've been searching for a durable beach umbrella that will stay grounded on the sand.
SPECS & FEATURES
Two-Way Tilt Design
Air Vents
Aluminum Pole
Fiberglass Ribs
Included: Carry Bag, Sand Anchor
SUN NINJA
The model is extraordinarily portable, light, and offers additional UPF 50+ sun protection. It is simple to set up and works on smooth, fine-sanded beaches.
SPECS & FEATURES
Material: Elastic Spandex, Aluminum Pole
7×7.5, 2-Pole Dimension: 21.3" x 8.46" x 6.22"
7×7.5, 4-Pole Dimension: 17.5" x 9" x 6"
10×10, 4-Pole Dimension: 20" x 9" x 7"
Storage: Stowaway bag included
TOMMY BAHAMA BEACH UMBRELLA
The Tommy Bahama Beach Umbrella is a trusted name in the sands of leisure, and this umbrella aims to provide a tilting, simple-to-set-up option at a reasonable cost.
SPECS & FEATURES
Material: Polyester canopy, aluminum pole with fiberglass ribs
UPF: 50+
Wind resistance: N/A
Height: 7 ½ foot
Weight: 4.84 pounds (2.2 kg)
SPORT-BRELLA PORTABLE
Sport-Brella Portable Sun & Rain Beach Umbrella is designed to protect you from the sun, provide shade from the wind, and keep you dry in the rain.
SPECS & FEATURES
Material: 210D Polyester canopy, 4.5 mm Steel ribs, 5 mm Steel stretcher
UPF: 50+
Wind resistance: 16-20MPH
Height: 8 foot
Weight: 7 pounds (3.17 kg)
CONCLUSION
With the greatest beach umbrella, you can stay cool all summer. For use at restaurants, hotels, beaches, and pools, Alluluh Tents & Sheds Tr. offers a variety of platform and center pole beach umbrellas. Strong beach and pool umbrellas are available from suppliers in Dubai, Abu Dhabi, Sharjah, Ras Al-Khaimah, Ajman, Umm Al Quwain, and all over the UAE. Contact Us for more details and Price Quotation.